In order to enrich the cultural and entertainment life of employees, increase communication and exchange among employees, relieve work pressure, achieve work and rest, and enhance team cohesion. On April 28, 2018, Yuliang Optoelectronics' internal trade department and the Ministry of Foreign Trade have met for a long time. In this busy schedule, we took out one day to get together and go on an outing to increase the tacit understanding and cooperation in my daily work. And let our young team crazy after tiredness!
The destination is: the famous "Songshan Lake".
  Group photo of attending outing
The first: Outward Bound
nto the development of the venue, the coach took everyone to carry out some interesting expansion activities.
Extending Activity 1: Queen's Circle
Put all the players in a circle, then turn the whole team to the right, put your hands on the shoulders of the players in front, and then ask each player to use your toes to hold the heels of the players in front of you. The coaches give instructions and all players are slow at the same time. Slowly sit back.
Harvest: cultivate solidarity, close cooperation, work together to overcome difficult teamwork, train team members to plan things, recognize the importance of communication, develop good team communication skills, summarize experiences, and strengthen teamwork skills. The importance of attitude and positive attitude.
Extending Event 2: Game Session
By arranging the number 123123... for the 3rd Brigade (Cyclone, Snow Leopard, Elite)
Game 1: Flower Blossom
The rules of the game: Each player's hands are placed on the shoulders of the left and right partners and form a circle: a total of six passwords are: flowers, flowers, wind, grass, mountains, and water. The corresponding actions are: backward, forward, left, right, high jump, underarm. (Forward movement) The second time is the reverse movement: flower opening (forward flexion), flower falling (backward), wind blowing (right-leaning), grass movement (left-leaning), high mountain (underarm), running water (high jump )
Game 2: Challenge 160
Game Steps: 1 Solution Strap 2 Love Pass 3 Solution Bracelet 4 Passion Beat
The rules of the game: The three teams completed the task in 160 seconds, timing PK.

The punishment of this game is...

This outreach training further enhanced the team's cohesion and collaborative working ability, strengthened internal communication and communication, enhanced the interaction and friendship among colleagues, and played an important role in strengthening the company's team building and accelerating the pace of business development.
Second: Self-help wild smoke firewood meal
At noon, the captains of the teams arranged staff to catch chickens in the mountains, fish in the ponds, receive food, and cook on fire.
Catching fish in pond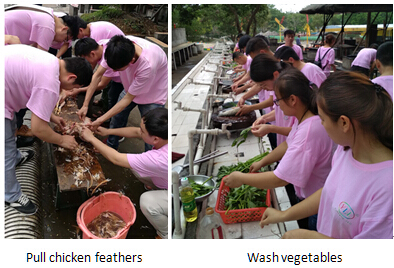 Everyone tastes the fruits of hard work together
The third: free activities
After eating and drinking, the afternoon is free for leisure and entertainment, you can play archery, pottery, karaoke, billiards, table tennis, billiards, water bamboo, chess and cards for everyone to play. There is also a large-scale magic acrobatics show and 100 acres of flower fields for everyone to enjoy taking pictures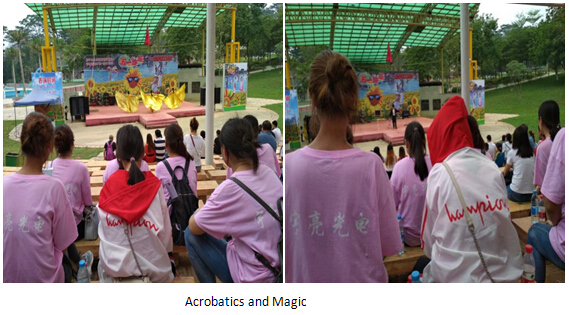 Sea of flowers and cactus
Happy afternoon
Through this activity, we understand that perfect team building requires every one of us to work hard and let us work together to create a work environment where mutual trust, mutual cooperation, effective communication, solidarity and mutual assistance, and bring this outstanding style to Each of our customers.
Yuliang Optoelectronics focused on the development of small and medium power smd led encapsulation
Has a fully automatic LED packaging production line,The main production of Epistar chip, CREE chip package 3014 side-emitting smd led, 3528 smd led with lens, waterproof 3535 smd led, waterproof 5050 smd led, three anti-5050 smd led, 5050RGBW smd led, 5054 smd led, 3528 smd led, piranhas leds and other specifications products.