convex lens 3528 smd led Tech specs:
- Type:SMD LED
- Model Number:YLL-T35R-AY-D30 etc.
- Power:0.06W-0.1W
- Chip:Epistar
- Viewing Angle:50-60°
- Emitting Color:Red/Green/Blue/Yellow/Orange/white light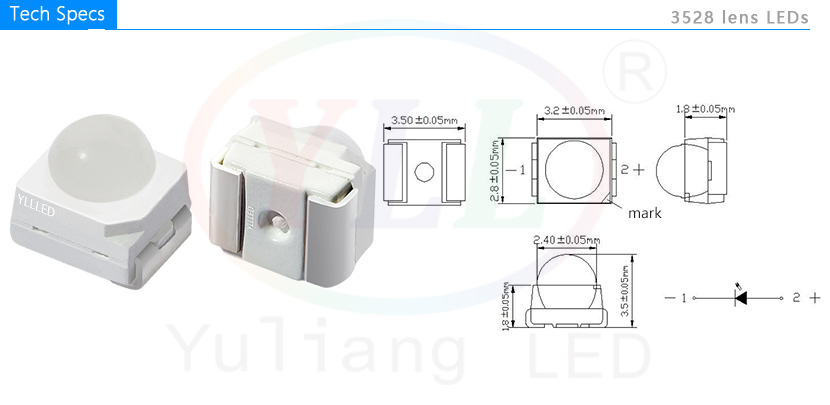 3528 lens leds product characteristics:small and medium power,high brightness,low light angle.
convex lens 3528 smd led(dome lens 3528 smd led) Parameter:
Product

Color

VF(V)

WL/CT(nm/k)

IV(mcd/lm)

IF(mA)

Angle(°)

Power

3528 lens LED

Red

2.0-2.4

620-630nm

1500-3000mcd

50mA

50-60

0.1W

Green

3.0-3.4

520-530nm

3000-4000mcd

20mA

50-60

0.06W

Blue

3.0-3.4

460-470nm

1000-1500mcd

20mA

50-60

0.06W

Yellow

2.0-2.4

588-592nm

1500-3000mcd

50mA

50-60

0.1W

Orange

2.0-2.4

600-610nm

1500-3000mcd

50mA

50-60

0.1W

Purple

3.0-3.4

360-410nm

50-100mcd

20mA

50-60

0.06W

Infra red

1.4-1.6

845-855nm

-

50mA

50-60

0.06W

Gold yellow

2.8-3.4

1500-1700k

8-10lm

20mA

110-120

0.06W

Pure white

2.8-3.4

5500-6500k

8-10lm

20mA

110-120

0.06W

Cool white

2.8-3.4

7000-25000k

7-9lm

20mA

110-120

0.06W
convex lens 3528 smd led(dome lens 3528 smd led) application: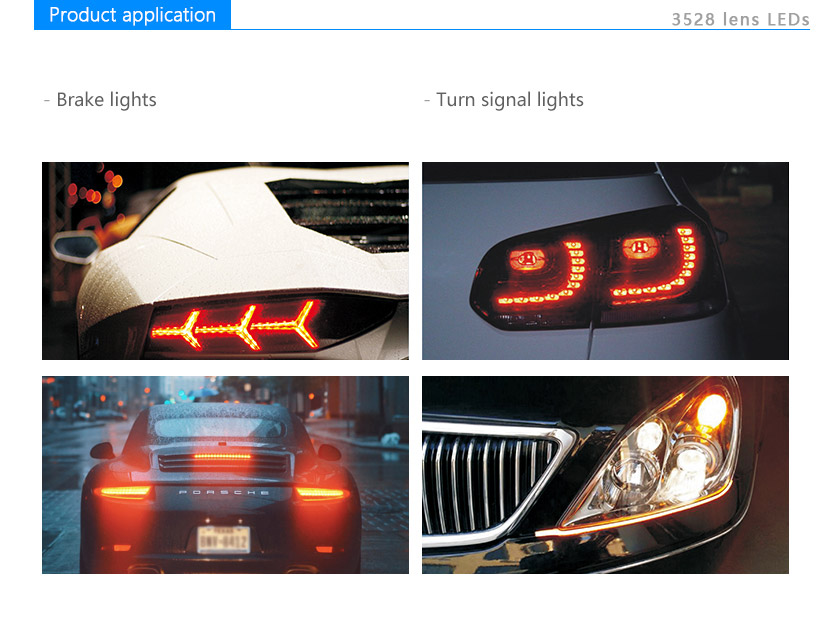 3528 smd led chip Color Standard: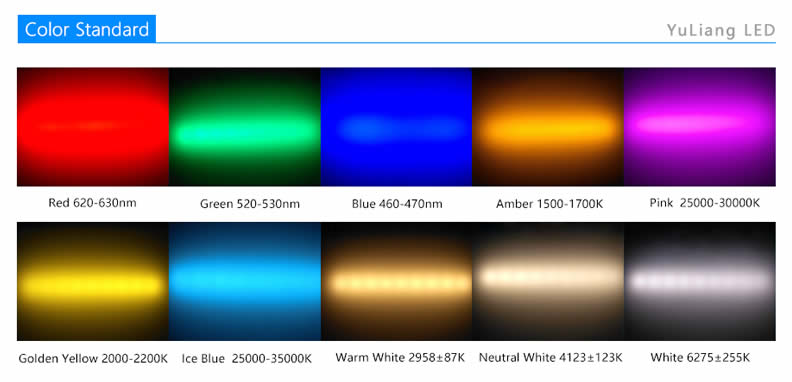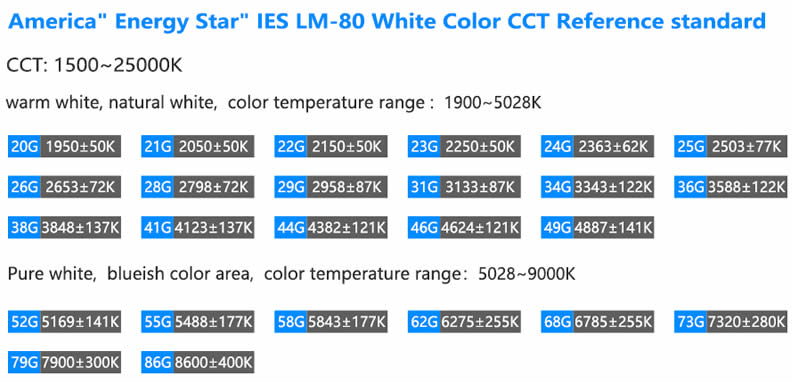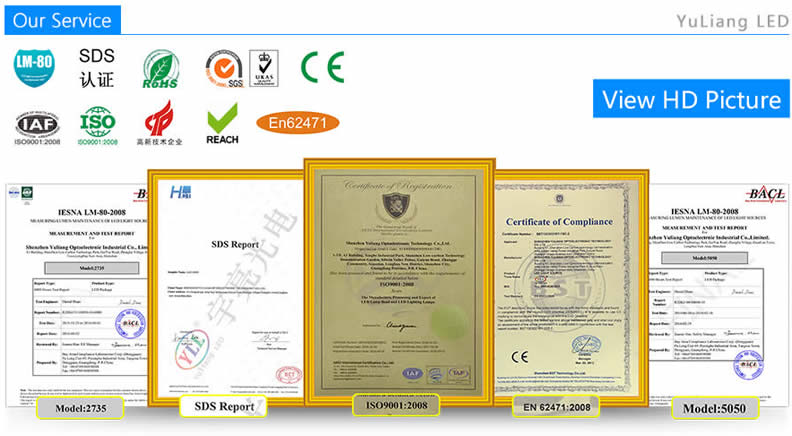 Instruction Manual
SMD LED Instruction Manual Thank you for using Shenzhen Yuliang Optoelectronics Co., Ltd. LED series products, in order to enhance your understanding of our company's product characteristics, to facilitate you to master its characteristics during use, to minimize or avoid unnecessary factors caused by human factors Damage or performance mismatch. Hereby explai


1. Material confirmation


Is the LED BIN rating of the feed matched? For example: voltage CIE BIN brightness and other parameters are the same level, the same level should be used together. Whether the positive and negative polarities meet the requirements, whether the different foot positions meet the requirements. If the same level of LED is not applied to the same item, its applicability should be evaluated first. (If the different voltage BINs are used together, the brightness may be different, and different CIE BINs may use the luminescent colors together to make a difference).


2. Packing and storage


Avoid moisture entering the inside of the LED before opening the package. It is recommended that the SMD series of LEDs be stored in a desiccant drying cabinet. Storage environment temperature range 5-30 degrees, humidity does not exceed 50%.


3. Preventive measures after opening the package


After unpacking, take the whole roll dehumidification measures as much as possible, and dehumidify the conditions: baking at 70 degrees for 4-12 hours. The dehumidified material should be used as soon as possible (within 24 hours). Remaining material should be sealed or placed in an environment with 10-40 degrees humidity and no more than 30% humidity.


4. Operational notes


This product can only be rewelded at most twice and after the first reflow, it must be cooled to room temperature before the second reflow can be performed. It is recommended that the reflow temperature range is 200-240 degrees. During the operation process, the material can not be taken directly by hand. There is sweat on the hand, and the sweat on the surface of the silica gel has optical pollution, affecting the light. In addition, the silica gel is relatively soft, and hand squeezing will cause the dead lamp to be broken. It is not recommended to mount LEDs on a bent circuit board. Avoid rapid cooling during soldering. Avoid any form of mechanical force or excessive vibration during LED solder cooling. After soldering, do not bend the circuit board. During rework or single-material work, the surface of the colloid cannot be squeezed with tweezers. Because silica gel is relatively soft, squeezing the colloid with tweezers can lead to wire breakage, which can damage the chip and cause it to die. In batch operations, the suction nozzle smaller than the inner diameter of the product will cause the nozzle to punch the silicone, causing the gold wire to break and the chip to be pressed and die. It is not advisable to carry out soldering for the repaired LED. If it is unavoidable, double-head soldering iron should be used. However, it is necessary to confirm in advance whether the LED characteristic will be damaged after the repair.


5. Electrostatic Protection


Electrostatic protection LED is an electrostatic sensitive electronic device. Various measures should be taken to avoid static electricity. For example: Wear an electrostatic ring during use. All devices, equipment and instruments should be grounded. It is recommended to test the assembled LED product to check whether the LED is damaged by static electricity.


6. Cleaning


It is recommended that isopropyl alcohol be used to clean the LEDs. If using other solvents for cleaning, make sure that the solvent does not affect the epoxy, silicone, or stent silver layers. Ultrasonic cleaning is not recommended to avoid damage to the LED. If it is unavoidable, please perform a pre-test beforehand to confirm whether it has adverse effects on the LED or potential problems.


7. Other considerations


Long-term exposure of the LED to sunlight or occasional exposure to ultraviolet light may cause yellowing of the gel. In order to ensure the photoelectric performance of the LED, please keep the surface of the LED lighting area clean and avoid fingerprints or other foreign objects covering. When designing the circuit, reverse voltage or excessive current in the switching process should be prevented from impacting the LED instantaneously. During use, avoid sharp tools such as tweezers touching the silicone gel section.

After-sale guarantee
Product guarantee


We using the original Taiwan Epistar and CREE chip


Quality assurance


All products are 2 years warranty and all products are strictly under controlled of our company's quality management system, and they are fully checked and shipped to ensure product quality.


Yuliang Promise


Yuliang promised to supply 1 BIN for long term and 3 days delivery samples.Small batch order can be completed within 5-7 days. Fast response to customer complains within 24 hours and handled a series of problems that the customer faced efficiently.


Sales network


Customer first, service priority. We have offices in Shanghai, Ningbo and Zhongshan, which can provide quality services to our surrounding customers.


customer service hot line


+86 0755-23170723