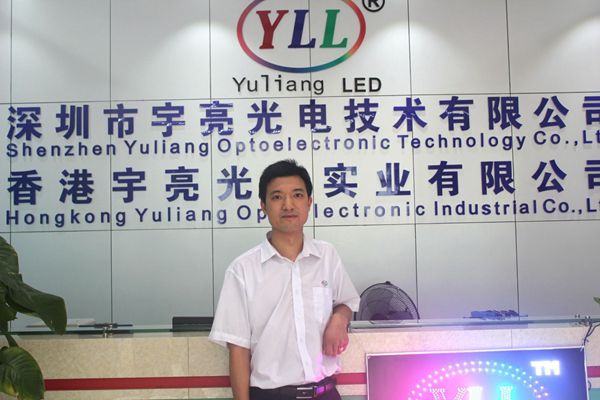 With the recovery of the LED industry in 2016, the market outlook is gradually divided into five blue ocean markets. Vehicle lighting is one of them. Not only have many major manufacturers rushed into the automotive lighting market, but also a group of small and medium-sized enterprises adhere to this area, has been to develop more new technologies and product innovation for the automotive lighting industry.
Yu Liang Optoelectronics was established in 2001, specializing in market segments and has been developing and producing a number of specialty products. According to Yu Liang Optoelectronics still general introduction, Yu Liang Optoelectronics business areas mainly for LED lights and outdoor lighting, the main products include ultra-high brightness red, yellow, orange and other full range of single-core piranha LED.
In the harsh environment, industry colleagues should make concerted efforts
After decades of rapid development, the LED industry has been introduced to the mainland for 10-20 years. He still introduced himself into the LED industry from 2002. He has witnessed the wide application of LED lamps from the beginning to the development of indicator lamps, indoor lighting, outdoor lighting, automotive lighting, and plant lighting. The industry shifted from profit-making to profit-making and turned to vicious competition.
"2015 is undoubtedly the most severe year for the LED industry. No matter whether it is an international company or a small and medium-sized enterprise or a small and micro enterprise, it has undergone a severe test. From last year to early this year, many international companies announced that they sold their LED business, and chip manufacturers have expressed that Such factors as rising prices and stabilization of package prices have caused pressure on the industry colleagues to ease this year, but homogenization competition, lack of innovation capability, mutual plagiarism, insufficient protection of intellectual property rights, etc., have yet to be resolved by colleagues in the industry. Always said.
In the next decade, automotive lighting is a key market
"Yuliang Optoelectronics entered the automotive lighting market in 2005 and now has 11 years. The original supply of piranha LED lamp beads can only be used in the modified headlight market to replace traditional automotive taillight bulbs, brake light bulbs, turn signal bulbs and other fields. "Shang always stated that after the rapid development of the automotive lighting industry in recent years, as well as large international companies and domestic manufacturers to increase investment in research and development of automotive lighting, can now headlights, low beam lights, daytime running lights, license plate lights, Interior LED lights, turn signals, brake lights, high brake lights and other applications of LED light sources.
In recent years, the international and China have vigorously advocated the promotion and entry of new energy vehicles. These new energy vehicles are favored by LED light sources because of their energy saving and environmental protection features. It is estimated that the automotive lighting industry will be a key market in the next 5-10 years and will have great development prospects. Shang always stated that Yuliang Optoelectronics will continue to increase investment in R&D in the field of automotive lighting and strive to contribute to the automotive lighting industry.
Growth in performance and confidence in 2016
"Shenzhen Yuliang Optoelectronics Technology Co., Ltd. has served the automotive lighting industry for more than ten years and has been highly praised by customers in the automotive lighting industry through constant innovation, pioneering and quality." According to the general introduction, in 2015 the successful development of the Little Red Riding Hood series 3528 convex The headlight beads are widely used in the automotive lighting market, and have a good support for the company's overall revenue in the automotive lighting field. Both performance and profits are showing signs of growth. However, he still stated that the company is in a period of rapid development and has not considered listing for the time being.
Keep up with the times and pay attention to plant lighting
At present, China's LED industry has a good foundation, and the research and development of plant LED light sources has progressed rapidly. Prominent advances have been made in plant light formulation theory, the creation of plant LED light sources, and intelligent light environment control. Plant plants and modern agriculture are being widely applied.
President Xi Jinping also paid close attention to this piece. He stated that the smart LED plant factory has overturned the traditional farming methods and provided new ideas for food security in the future. The results are of great significance. The research and development of smart LED plant factories should be further strengthened to speed up the industry. The pace of development will benefit more people's livelihood. According to the total disclosure, Yuliang Optoelectronics has long been concerned about the plant lighting, and in 2013 began to invest in research and development, the application of plant lighting LED light source, there are currently some products in bulk supply field of plant lighting.
In the fierce competition, independent innovation is the way out
According to General Introduction, Yuliang Optoelectronics has been cooperating with international and domestic well-known auto manufacturers for over 10 years, such as EPISTAR, CREE, OSRAM and other internationally renowned manufacturers. The outdoor lighting field also has in-depth cooperation with many domestic outdoor manufacturers.
In the face of fierce market competition, Shang always pointed out that in the current copycat operation mode, plagiarizing new products for research and development, using unfair competition means to steal technology and scramble for the vicious competition of sales and technical personnel, only firmly believes in continuous autonomy. Innovation, product upgrading and upgrading, researching more innovative products that are more suitable for the market, and building a strong core team can make the company go further and throw plagiarists and followers far from the market.